As we all know, pets are man's best friend. At any rate, the amount we spend on our pets is permanently increasing worldwide, parallel to the marketing budgets of the manufacturers and distributors of pet food and accessories.
That's why we not only get to enjoy translating woofs* and meows* so often, but primarily also product descriptions, packaging texts, displays, banners, website content and much more.
Many of our translators are animal lovers. However, they are above all precise, professional language experts who work on the basis of the most recent EU regulation on feed materials.
This ensures that pet owners in every country know what's best for their dog, cat or mouse.
Typical translations from the zoology field:
Packaging text
Ingredients
Feeding recommendations
Labels
Directions for use
Marketing text
Magazines
Advice sheets & flyers
Advertising
Promotions & displays
Internet sites & online shops
Content
Product descriptions
Online banners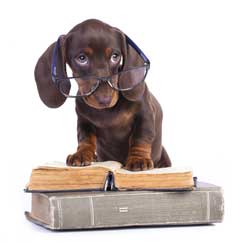 *Woof
In German: wuff
In French: ouaf
*Meow
In German: miau
In French: miaou