As translation service providers, freelancers are the strong backbone of all translation agencies. For one thing, freelance translators give a translation agency access to project-based specialised knowledge that isn't required on a daily basis. At the same time, collaborating with freelance translators makes it possible to meet unexpected peaks in demand in a professional manner.
Like so many other sectors and industries, translation freelancers have also been impacted by a number of developments during the Corona pandemic. For those who are professionally involved in translation work and services, questions started to arise, such as:
How have freelance translators weathered the crisis so far?
What's changed for them?
How do they see their future in the translation industry?
The market research company CSA Research wanted to know exactly how the COVID-19 pandemic had affected freelance linguists and conducted two surveys within this group all around the world. One in August 2020 (with 1,174 participants) and again in Juli/August 2021 (with 559 participants).
Covid-19 caused a temporary decrease in freelance translation work
Even though employees in many sectors were able to work from home, global lockdowns caused a drastic downturn in a huge part of the economy. The corresponding impact affected economic activity in a number of segments. In many cases, this led to a reduced need for translation services, thereby reducing the number of orders placed with translation agencies. Generally speaking, if a potential client is under financial restraints themselves, with no way of knowing what the future holds, they will scrap any projects that don't directly contribute to their core functions or bottom line. When these projects include translation tasks, or events requiring interpreters are cancelled, the ripple effect reaches language professionals too. During the pandemic, freelance translators and interpreters were disproportionately affected as they are often employed for peak workloads, which were the first to vanish.
However, while this was happening, an economic boom occurred in a relatively small number of instances, creating an increase in both the amount of work and profit. This was especially true of freelance translators who specialise in thriving areas such as online commerce.
57% of the freelance linguists surveyed said they had a lower volume of work in the Corona 2020 year, with around 55% reporting a corresponding drop in income.
Positive development in the volume of freelancers' work and income in 2021
Change in work volume and income for freelancers, shown as percentages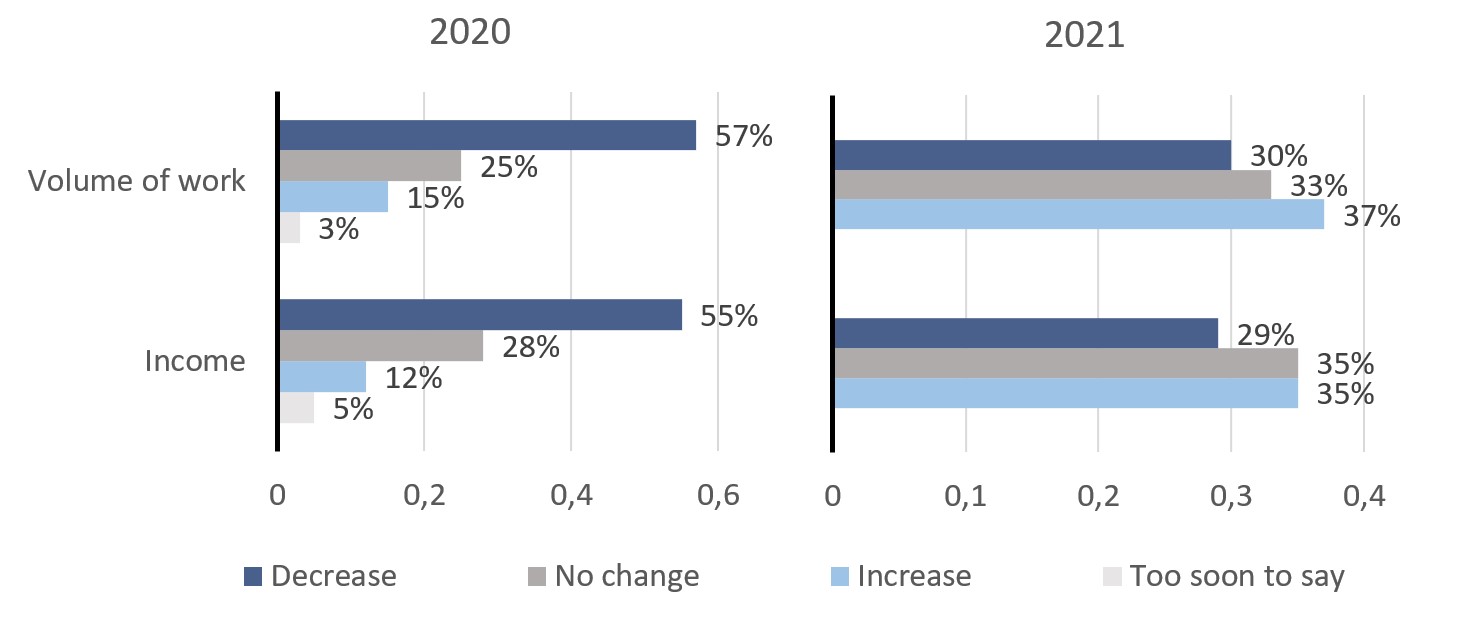 Source: CSA Research, n = 935 in 2020; n = 559 in 2021
In 2021, the situation improved again. About 30% of the freelance linguists surveyed said they had suffered a decrease in working hours and income compared to the pre-crisis year. For 35% of the respondents, their income had actually increased in 2021 compared to the time before Corona.
Interpreting services were hit particularly hard by the declines as they're largely geared towards face-to-face contact between people. The pandemic-related cuts could only be only partially offset by video conferencing interpreting. As a result, freelancers in the interpretation industry reported a 24% loss of income between January and June 2020. Freelance translators were less affected, suffering an 8% loss of earnings from translation services within the same period.
During the hard lockdowns in 2020, interpreting services were particularly affected by a sharp drop in income
Change in freelancers' income compared to the previous year, shown as percentages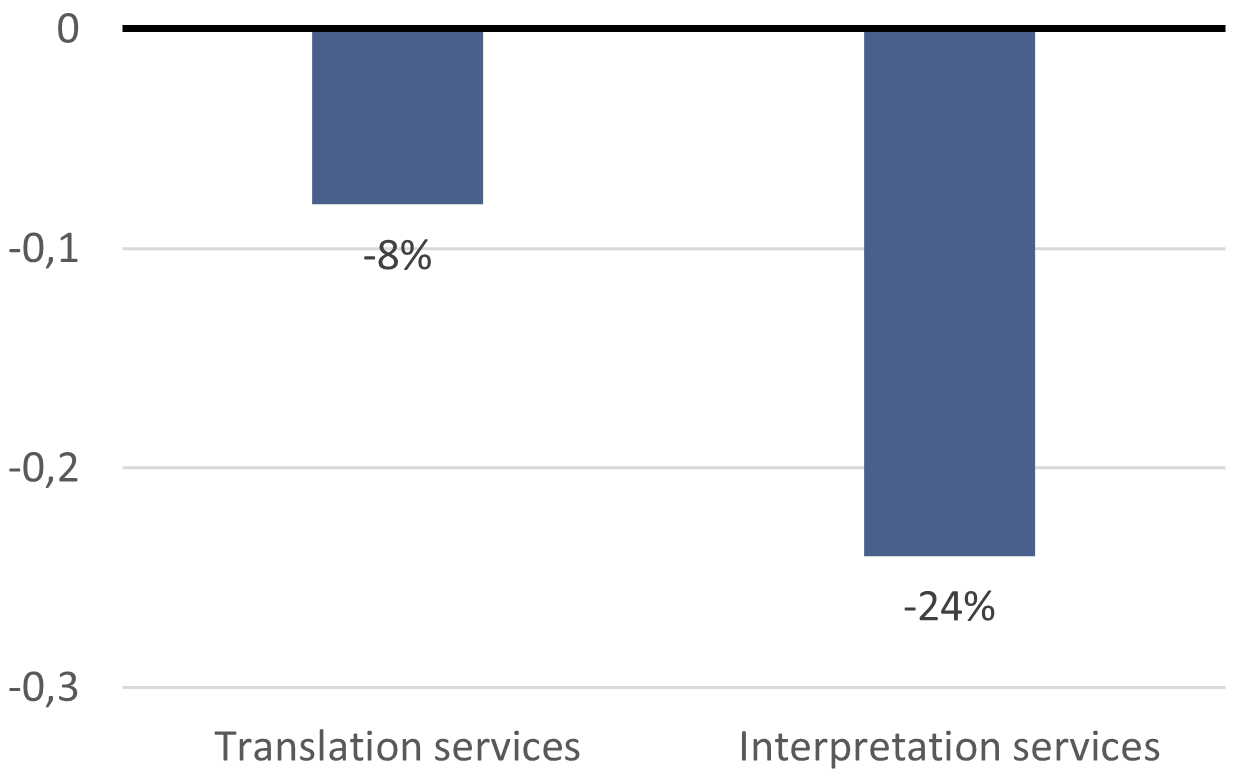 Source: CSA Research, n = 901
Looking ahead, how do people view the future of the translation industry?
Not surprisingly, the level of optimism among freelance linguists in 2021 has improved significantly compared to how it was in 2020.
Once it became clear that the restrictions caused by the COVID-19 pandemic were only temporary, freelancers felt much more positive about their future prospects. However, about one in ten freelance translators and/or interpreters felt less optimistic.
Optimism is on the up – Is the pandemic over?
Freelancers' assessment of the translation industry's future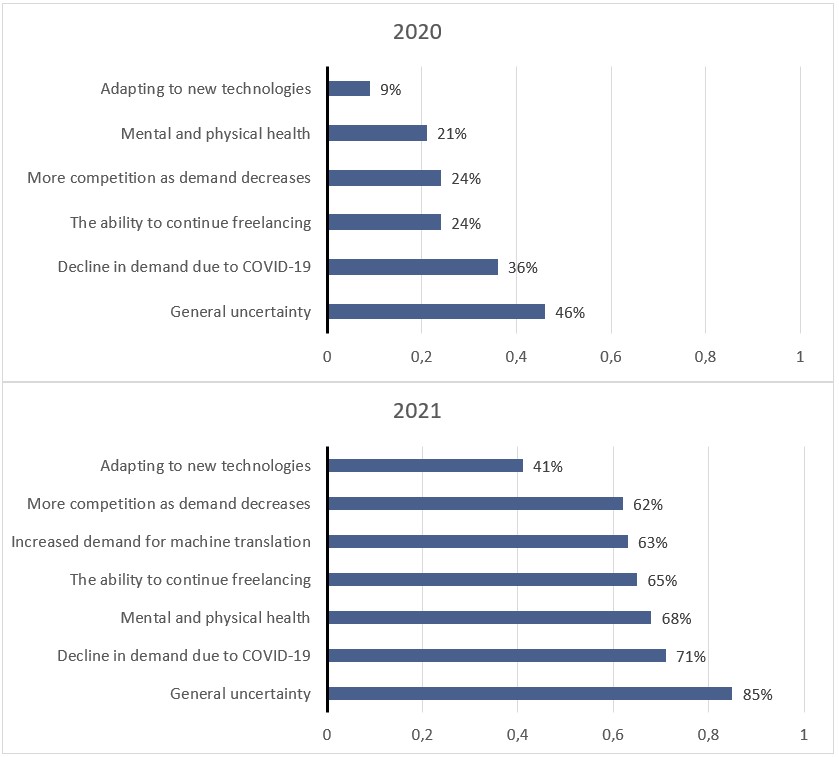 Source: CSA Research, n = 779 in 2020; n = 514 in 2021
One thing stands out when we look at which issues cause freelance linguists the most concern. Both the range of difficulties – and how important these matters feel – increased. And that's despite the general feeling of optimism among translators and interpreters that we just saw. This would suggest that the Corona-based restrictions made freelancers more aware of potential complications. It made them wary of trouble spots, even when they don't believe them to be an actual threat. Clearly, this way of thinking arose from the harsh experiences faced by freelancers after their sudden loss of economic security.
Going forward, what are freelance language service providers concerned about?
Proportion of freelancers polled who were somewhat to very concerned about the following statements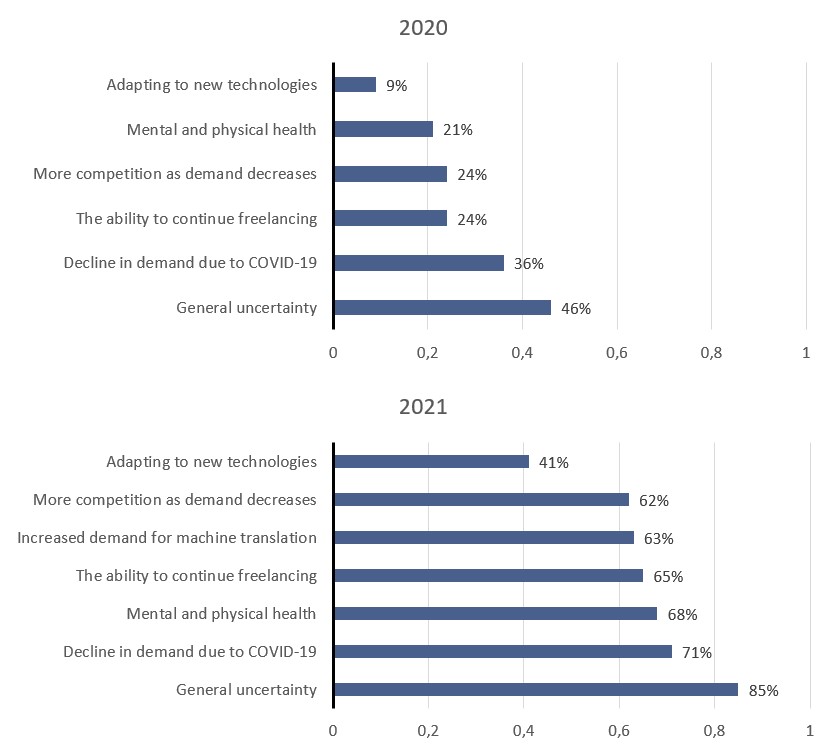 Source: CSA Research, n = 779 in 2020; n = 540 in 2021; Please note: Differences may occur as a result of different classifications between the two years. While the 2020 statistics only included those who responded with "very concerned", the 2021 statistics include both "somewhat concerned" and "very concerned" responses.
There is still a general feeling of insecurity among freelance translators and interpreters which stemmed from the Corona crisis. The current climate has led to difficulties in planning ahead, fears about their livelihood, unclear prospects and a number of other constraints. These existential fears are also reflected in the amount of respondents who expressed uncertainty about their ability to continue working freelance. This number rose from 24% in 2020 to 65% in 2021.
Another point worth noting is the issue of mental and physical health, which is significantly more prominent in 2021. 68% of translators and interpreters are now concerned about their mental and physical health, compared to 21% in 2020. In other words, the ongoing crisis and public health policy measures appear to have had an increasing impact on freelancers' health.
Machine translation was another topic that gained significant momentum. In 2021, 63% of freelancers in the translation sector were concerned about the increased demand for machine translations. It must, however, be said that in terms of quality this demand largely applies to the entry-level segment of the translation market. You can find out more about machine translations in this blogpost.
Set to continue: Freelance work for translators and interpreters
Like most sectors of the economy, the translation industry has been in a state of upheaval. Some segments will benefit from these changes and others will be negatively affected.
As far as the Corona pandemic is concerned, the freelance translation community is not alone in thinking that the problems surrounding COVID-19 will soon be over. In the near future, we expect to see a return to normality in the translation and interpreting industry.
First indications for this outlook can be seen in the survey results from 2021, which point to an increase in both work and income. Freelance translators and interpreters are now in greater demand again.
Interestingly, certain sectors within the economy are showing a considerable increase in their need for translations – and this is likely to continue. Online retail, or e-commerce, is one such example. You can read more about megatrends in the translation industry here
Would you like to know more about working as a freelancer? Are you a freelance translator or interpreter looking for exciting projects? Then apply to Intercontact here. It's quick and hassle free:
Apply now as freelancer