People love animals. The 2020 year of Corona made that abundantly clear. When more people traded their workspaces for home offices and spent more time at home, their desire for animal companionship grew.
Some people used pets to stave off loneliness during the Corona period. According to the German Pet Food Manufacturers' Association (Industrieverband Heimtierbedarf, or IVH), the Coronavirus pandemic increased the demand for pets considerably. In 2020, roughly 34.9 million dogs, cats, small mammals and pet birds were kept as pets in Germany – that's over a million more than the previous year (IVH 2020).
How many pets live in Germany?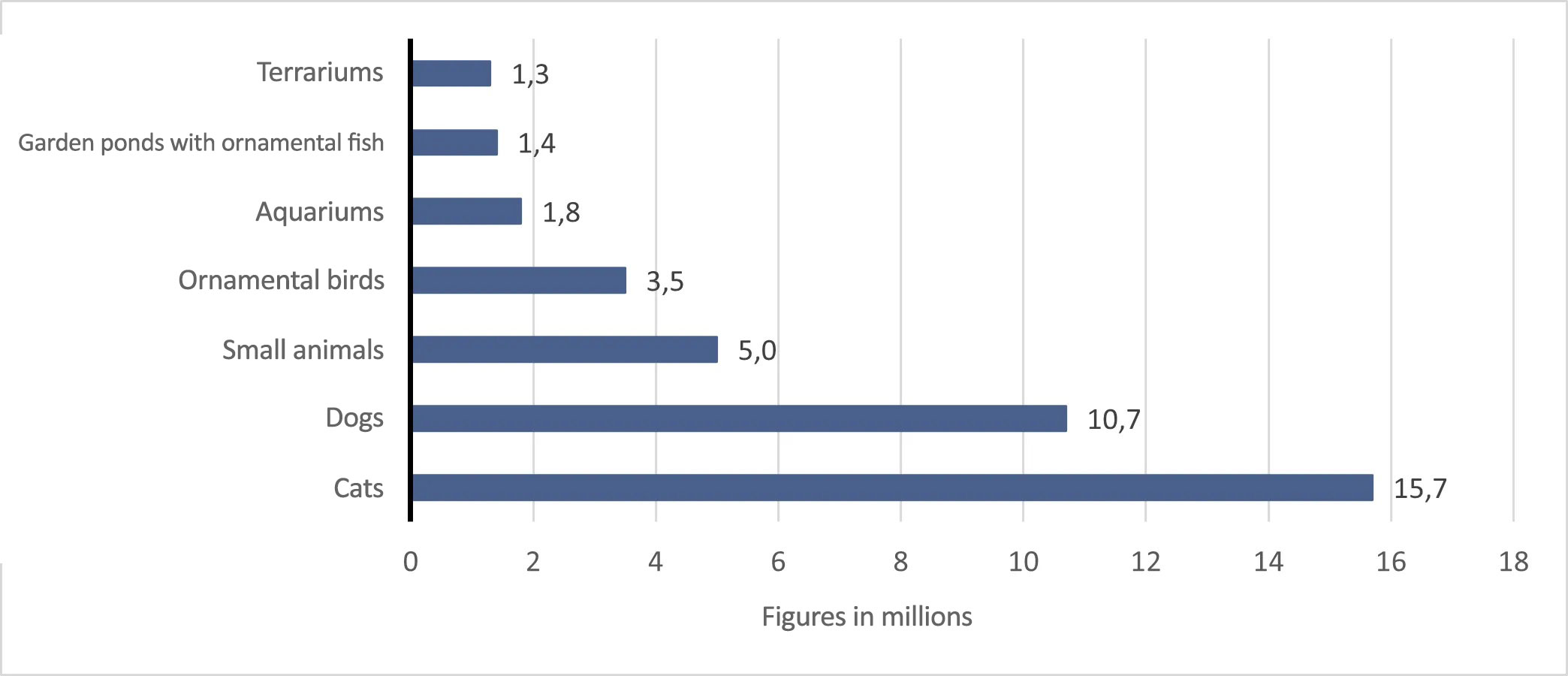 Source: German Pet Food Manufacturers' Association, 2020 (Industrieverband Heimtierbedarf (IVH) e.V., 2020)
A person's best friend appears to be – at least in Germany – not the dog, but the cat. Approximately 15.7 million cats and 10.7 million dogs live in German households.
When purchasing a pet, it's important to remember the responsibility that comes with it – often for many years. Dogs and cats live for around 10-15 years, rabbits around 10 years, and guinea pigs live for roughly 7 years. Living conditions can change and it's up to the pet owner to ensure that their pet will be looked after for several years, according to the animal's needs. In addition to the time factor, there is also the financial aspect to consider.
The pet supplies industry is booming!
According to a representative survey of 7,000 households, carried out by German market research institute Skopos, every second household has at least one pet. So it's easy to imagine how lucrative it's become to be a feed or pet accessory supplier. German businesses like Futterhaus, Fressnapf, and Zoo & Co. sold 4.51 billion euros worth of animal feed in 2020, according to the IVH. This corresponds to an increase of 4.3 percent from the previous year. Fressnapf alone made 1.81 billion euros in sales in Germany in 2021 – roughly 15 percent more than the year before. The total sales revenue of the Fressnapf Group in 2021 was around 3.2 billion euros. This corresponds to a growth of nearly 20 percent in the international market.
Higher demand for language services in the field of zoology
Increasing sales in international markets means a higher demand for language services. Packaging for pet feed must be written in the appropriate language for each country. This requires specialist knowledge because an incorrect translation, especially when it comes to the ingredients for animal feed, could make some cats and dogs sick.
If you want text on animal feed to be well received in other languages and not cause problems, you should have your text localised, especially for the animal feed trade. You can read about the advantages of this here.
For commercial pet supplies companies, like Fressnapf, as well as the animal feed industry in general, the implementation of translations in accordance with EU feed regulations plays an important role. The same is true for the translation and localisation of the product text in their online shops. In particular, the list of ingredients has to be implemented in accordance with EU guidelines.
Within the field of pet care, intercontact translates packaging text, marketing text, press releases, website content and pet magazines into all EU languages.
The animal-loving team at intercontact is always enthusiastic when it comes to providing translations for all sorts of information that helps provide high-quality care for all sorts of pets.